Nashville, TN (PRWEB) November 06, 2012
Remember that feeling when you received your first paycheck for working at a job you love? Wait, what, you never had that feeling? Then you will be envious of the professional and hobby musicians that perform live for tips on StreetJelly.com. New website streams musicians live on webcams and has begun sending payments to musicians from tips collected during performances.
Frank Podlaha, founder of StreetJelly, says, its online busking: being a street musician on the internet. Musicians, singer / songwriters, vocalists, and all types perform for tip money with a computer and webcam in their living rooms, basements, home studios, wherever. Its a unique concept where StreetJelly combines the love of music with the power of micro-donations to provide a space for both musicians and fans to connect. Music Lovers watch and chat with the artists, much like in a chat room. The viewers purchase virtual tokens which they use as currency to tip the musicians. The musicians then cash out the tokens they receive for real money, sent via PayPal.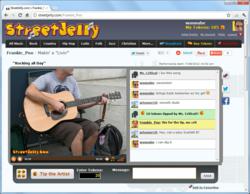 StreetJelly is not only about making a paycheck, its about personally connecting  with musicians and their art. Take Lana Eve, for instance, who performs often on StreetJelly. She's a teenage country music prodigy from Nashville. Despite sounding like a cliche, she really has the voice of an angel. Want to see the most genuine happy smile? Say "hello" to her and drop her a token.
Then there's Maestro from Seattle, an accomplished musician and music teacher from School of Rock. Maestro will draw you in with his soothing piano, guitar originals and great conversation. Before you know it, time has flown by and your day is much better.
There's also folk music duo Rick and Denise called Mountain Melodies. They put on weekly shows from their home for friends and family around the country. Youll feel like you are with family eating warm milk and cookies witnessing their friendly house concerts.
Making money doing what you love is the hype. StreetJelly provides a real way for musicians to get visibility, build a fan base, share their art, and earn a few bucks. And, StreetJelly brings music lovers in touch with real musicians, in real time, in all its raw musical goodness.