BuddyTV Guide Adds Hulu
Seattle, WA (PRWEB) October 14, 2012
BuddyTV announced today that they are welcoming a new content provider to their free BuddyTV Guide app – Hulu Plus. Users of the free app who have a Hulu Plus account can now find all their TV and movie selections within BuddyTV Guide. Once they choose a particular piece of content to consume, there is now an option to watch immediately through Hulu Plus which is linked from the BuddyTV Guide.
It shows our commitment to have the best entertainment content indexed in one place, said Andy Liu, BuddyTVs co-founder and CEO. Our app is the best TV discovery app in the world, adding Hulu Plus makes it an even better experience for our users.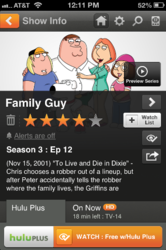 With the addition of Hulu Plus, BuddyTV indexes over 1.2 million unique programs ranging from popular TV shows to cult-classic movies. That number will continue to grow as BuddyTV expands its reach in the entertainment industry.
BuddyTV Guide indexes all the major cable and pay TV providers schedules as well as the major Internet Video providers (Netflix, iTunes, Amazon, and now Hulu Plus) to create the best personalized
TV discovery experience. Watchlist, TV grids, Search, and editorially driven guides help users find shows to watch in less than 20 seconds. With the addition of Hulu Plus, users will have even more choices of how they want to watch their entertainment instantly.
The BuddyTV Guide 2.6.1 app is available for free in the app store on iTunes. To learn more, visit the BuddyTV Guide website for more details.
*************
About BuddyTV:
BuddyTV's goal is to help TV fans discover their must-see TV. As the #1 independent TV site on the web, this means providing a venue for over 5 million unique visitors per mon
th to connect with fellow fans, read the latest news and enjoy entertaining features about their favorite shows. Now, with over 400,000+ downloads on iOS and an almost perfect average user rating of 4.5 stars, the BuddyTV Guide app is enhancing and expanding the ways that consumers enjoy their TV time.
You must log in to post a comment.